Incentives
Every time a Customer receives a delivery, the outer packaging contains a label with a QR code which they are encouraged to scan in order to receive a Gift (INCENTIVE) from the Retailer.
In the main menu, in the INCENTIVES section, you will see a Default Incentive which has been set up ready for you to use.
A Default Incentive is the one a Customer will see when they first receive a parcel with your Delloop QR Code label (Your store's specific Delloop QR Code can be found under the Resources Menu HERE.
You can create as many Incentives as you wish. You may have an Incentive that you use frequently so you can make that your Default Incentive. 
As you create more Incentives you will see a list of them, which can be sorted by Incentive Type and Date Range.
A coupon code is generated by the system and it is what the Customer would use to claim the Incentive.  You will need to add that coupon code and discount into your e-commerce software e.g. Woocommerce or Shopify using the same "code" and similar characteristics. e.g 10% Discount on new order etc.
Integrating the Incentive into your store
For help in adding the Coupon Code specifically into a WooCommerce store go HERE, for a Shopify store go HERE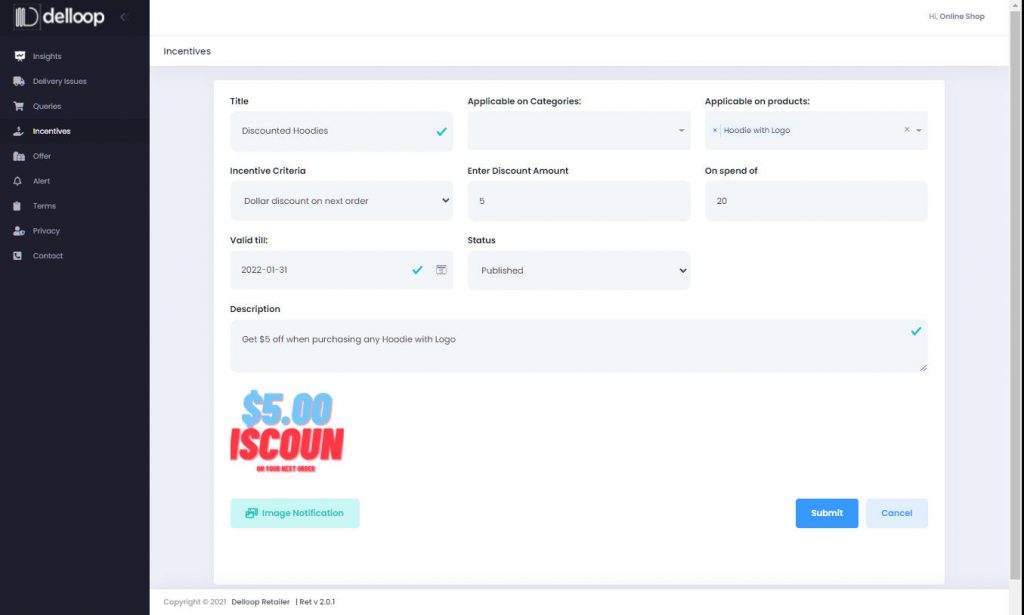 Following are the steps to CREATE an INCENTIVE:
Click (top right) on ADD INCENTIVE
Give your Incentive a TITLE (This is for Internal use)
In the drop-down menu APPLICABLE ON CATEGORIES this is where you would choose the type of product
In the drop-down menu APPLICABLE ON PRODUCTS you select the actual product you want to offer as the incentive.
In the INCENTIVE CRITERIA choose one of the options
The next two felds are dynamic and will only show depending on the INCENTIVE CRITERIA you have chosen. Complete these two Fields.
Select the VALID TIL date – to give the Incentive an expiry date
Write a short DESCRIPTION which is the wording the customer will see when they receive the Incentive
Click on IMAGE NOTIFICATION and select an image (you can choose one of the examples from the INCENTIVE TEMPLATES page or create one of your own)
Click SUBMIT
Publish and Preview an Incentive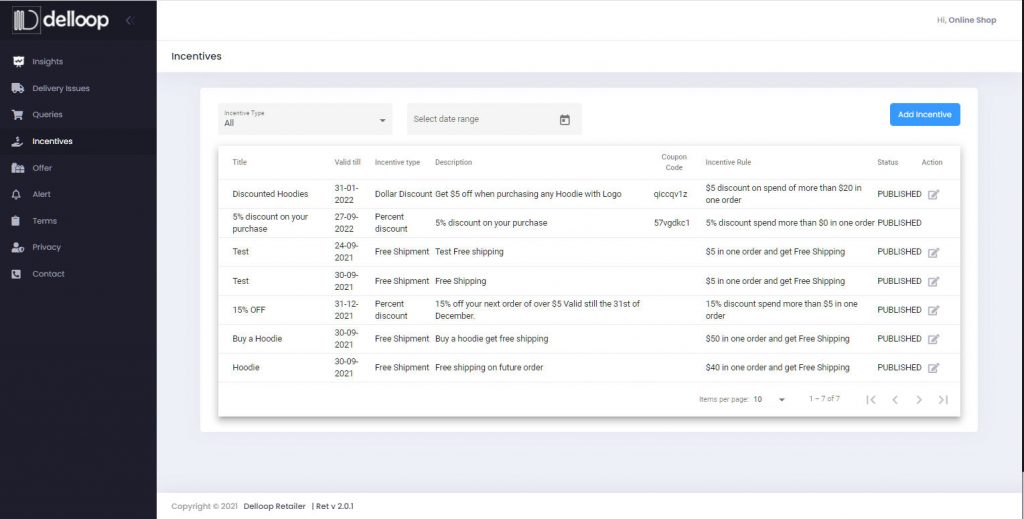 The Incentive is now in DRAFT format. 

You can view all the Incentives you have created in the main list. You can click on one of the ACTION checkboxes on the right and view details of that Incentive or edit them

You can delete the Incentive by clicking on the 'Trash Can' icon (you can not delete it once published) 

You can view the completed draft of the Incentive by clicking the 'EYE' icon

Here you can also select on of the Incentives to be the Default Incentive which 

is the one a Customer will see when they first receive a parcel with your store's QR Code label. 
When you have checked it and are ready to PUBLISH it,  click on the ACTION box again and select PUBLISH from the drop-down menu in the 'STATUS' box  
NOTE: Once PUBLISHED the Incentive cannot be edited or deleted