Sending Incentivised parcels
Why send Incentivised parcels?
Using a LABEL that includes your QR CODE and an INCENTIVE, is the start of your Incentivised communication with the Customer. 
This label may also be the Customer's first interaction using Delloop and the start of an enduring  Retailer-Customer relationship where engagement goes much further than the traditional legacy sales-cycle.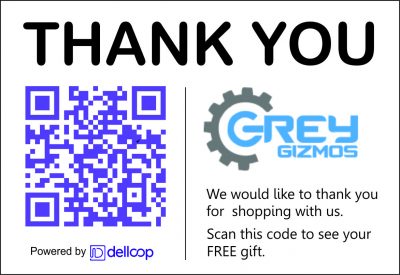 The label should include:
the QR code you will find in the Resources menu
your store logo
'powered by Delloop' logo
a line of text describing the Incentive (Gift) for example:
We would like to thank you for shopping with us.
Scan this code to see your Free Gift.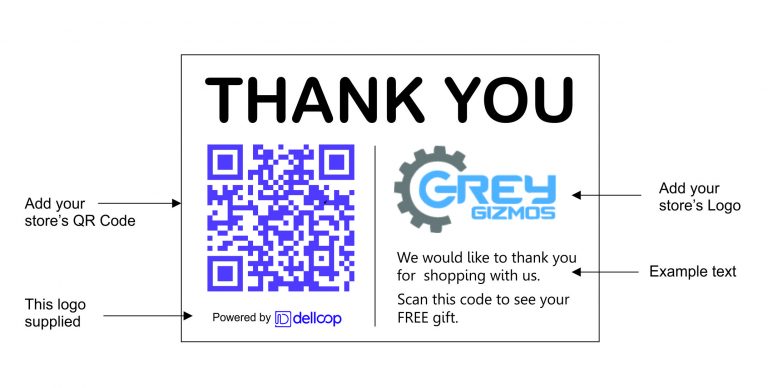 You can eaily create the Parcel Label using any graphics software package such as Microsoft Paint or online using something like Canva.com. We recommend the following:
We recommend a standard 99×68 Avery label which is available in most stationery stores or online at

Avery.com

add your Delloop supplied QR code to the Label
add your Store Logo to the Label
go to the Graphics & Icons page to find the 'powered by Delloop' logo

Note: If you like you could also add a link to a web page your Customers can visit
for queries about the Incentive, e.g., www.yourstorename.com/gift. The suggested text is: 
If you've received a Parcel from our store, Congratulations! 

This is a Gift to say thank you for being our Customer.

Use your phone's camera to scan the QR code. You will need to download a small App called Delloop.

Scan the QR code again using the Delloop App to see your Gift.

You can make use of the Gift you have received from us when you place your next order.

Our store uses Delloop to help our Customers with their enquiries and to manage all their shopping history, warranties and to access Support.

Why send out a package with the QR code that Delloop has supplied?
A great way to ensure a Customer returns to your store is via an Incentive. Clicking on the QR code on the package is a unique and easy way for your Customer to receive this Incentive. It also begins your journey of going beyond the Customer's front door and into a longer engagement with them.
Every time a Customer clicks on that QR code and receives an Incentive from you, they remember your store, they feel acknowledged by your store, and they will come back to your store to claim their Incentive and, in doing so, make another purchase.
At the same time, this simple action of clicking on the QR code connects them to our store via the power of Delloop and more doors open up between you. Now your Customer has the ability to communicate more directly with you – for support, to provide feedback, to influence others and to transact repeatedly.
Using Alerts and Special Offers your store can reach out directly to your current Customers, as well as to highly targeted NEW Customers from across the Delloop Membership base.
All of this is fueled by a wealth of new insights and that invaluable feedback loop and it all got started from your store sending out a package with a simple QR code!