Register
You may already be a Delloop Member. Perhaps a package arrived from your favourite Store which included a Thank you Gift, which you claimed by clicking on the QR code and downloading the Delloop App.
If you did, congratulations and welcome!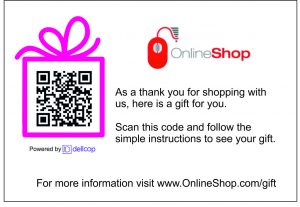 If you are not a Member and would like to be, follow these steps:
Register (either using a Mobile or Online)

Online: Register at member.delloop.com

Click 'Register'

enter your first and last names
enter the email address you use when purchasing online
choose your gender
enter your date of birth
enter a CODE if you have been given one. (Ignore this box if you are not sure)
create a specific password and re-type this in the 'Confirm Password' box
tick to agree to the "Terms and Conditions'
Click 'Submit'

Registration Confirmation
Your email address should already be displayed – check it is correct
Now check your email inbox for an email from Delloop advising of your 'Confirmation Code' – (Check your SPAM or Junk Mail box too)
Enter that code into the 'Confirmation Code' box
Click 'Confirm' (Note you can also click on 'Resend Code' if required)

Make sure your email addresses match! The email address you use in your favourite stores and the one you use to Register at Delloop must be the same!
4. Member Profile
Click in the top right hand corner where you see 'Hi, your name'
Click on 'My Profile'
Click on the pencil icon in the photo frame
Select a photo to appear in you profile
Your first and last names as well as your email address, gender and birthdate should already appear.
Enter your phone number – Choose your country code from the drop down menu, then type your phone number
Type your shipping address, choosing the Country from the drop down menu – this is where you normally have packages delivered

Click 'Save'

Type your billing address, choosing the Country from the drop down menu – this is where you normally receive your credit card statements

Click 'Save'

Scroll to the top of the page and Click 'Save Changes'